VTchromizer is a Google Chrome browser extension that simplifies the process of scanning Internet resources with VirusTotal. It allows you to scan links (including links to files) directly with VirusTotal's web application. It will scan the submitted URLs with URL analysis tools and the content downloaded from the scanned site with VirusTotal's antvirus solutions.
Unlike VTzilla, VTchromizer does not embed itself in the browser's download dialog, only in the context menu. Google Chrome still does not offer an API to modify the download dialog, having said this, you can still scan any file that you want to download by right-clicking on the link to the file and choosing the Scan with VirusTotal option.
Contents
Audience
Getting started
What are we interested in?
Scanning suspicious links
Scanning downloads before storing them
Scanning the web site being displayed
Search for a file or url report, a particular comment or a VirusTotal Community user

Audience
This document is intended for any user that wants to learn how to use VirusTotal's browser extension for Google Chrome, VTchromizer. No technical background is required in order to understand the document.
Thus, the document is intended for Google Chrome users.
What are we interested in?
The main purpose of VTchromizer is to help the community in securing their systems. Having said this, if we can also collect interesting data to analyse and study, even better.
We are interested in malware, obviously, so if you come across any malicious file download link do not hesitate to scan it with VTchromizer. Additionally, thanks to VirusTotal's URL scan service we hope that users will be willing to send us phishing and any other fraud/ecrime related sites. Why? Because hopefully these sites will end up being processed by the URL analysis tools integrated in VirusTotal and will improve their efficiency, and thus end-user protection.
Getting started
The first thing you must do is to install the addon itself, you can do this by referring to the Chrome Web Store while visiting this site with Google Chrome:
Scanning suspicious links
Imagine you have logged into your gmail account and you have received a suspicious email from your bank. The email is informing you about an unauthorized access to your account and is asking you to follow a link and provide your credentials to view the account access log.
Since you're savvy, you know that this mail is probably a phishing attempt. Even though you know that this is a scam, you are committed to help others, hence, you right click on the suspicious link and select the Scan with VirusTotal option from the context menu: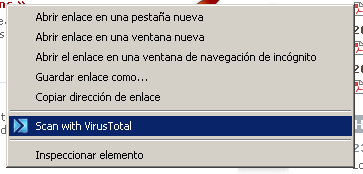 This will open a new tab in the same browser window, such tab will show the report for the requested URL scan. Note that the scanning process will also download the file/site of the target link, so do not forget to click on the View downloaded file analysis link.
Scan the web site being displayed
VTchromizer adds its own icon to Google Chrome's topbar, one of the options in the extension's popup is to scan with VirusTotal the web site being displayed in the active browser window. As before, a new tab will be opened with VirusTotal's report.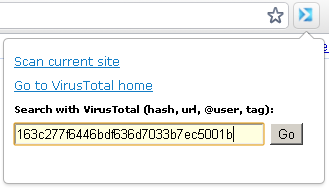 Search for a file or url report, a particular comment or a VirusTotal Community user
VTchromizer's topbar popup also contains a search box, this search box allows us to directly query VirusTotal's database for particular file/url reports, comment tags or VT Community users. When searching for file report, the box accepts MD5, SHA1 and SHA256 hashes.