VirusTotal for Android is an Android application that simplifies the process os scanning Android applications with your Android mobile device (phone, tablet, etc.). It allows to perform hash lookups for all applications on your device as well as upload any file that may be unknown to VirusTotal.
The scan output is available in the application itself and rechecking is as easy as clicking the corresponding menu option.
Please note that VirusTotal for Android does not provide real-time protection and, so, is no substitute for any antivirus product, just a second opinion regarding your apps.
Contents
Audience
Getting started
Scan output
Uploading unknown applications to VirusTotal
Rescanning applications
The application menu

Audience
This document is intended for any Android OS user that wants to install and use VirusTotal's application for Android in order to perform regular malware scans on his phone. No technical background is required in order to understand the document.
Getting started
The first thing you must do is to install the application itself, you can do this directly from the Google Play store.
Install VirusTotal for Android
After installing the application you will have to launch it to perform the very first scan of your system.

Scan output
Once the very first scan has finished, every time you launch the VirusTotal application you will see a list with all the applications installed on your device and a small icon next to them:
The green droid means that the application was scanned in the past by VirusTotal and was not detected by any antivirus solution. If the application was unkown to VirusTotal, a blue question mark will appear in the result column. Finally, if the application was indeed detected by one or more antivirus vendors, the icon displayed will be a red droid: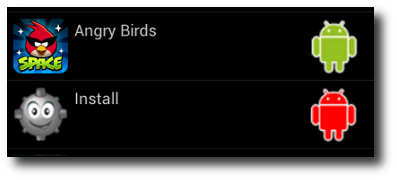 Please note that you can seach for a given application by using the top search box: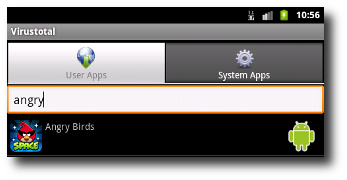 Clicking on any of the applications in the output list will take you to the application's details pane, the very first screen will just show you the detection ratio: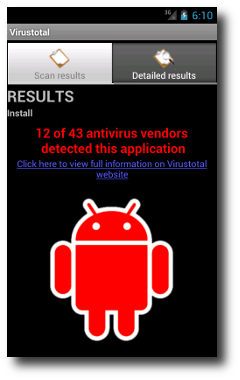 Once there you can see the entire list of antivirus vendor verdicts by clicking on the "Detailed results" button: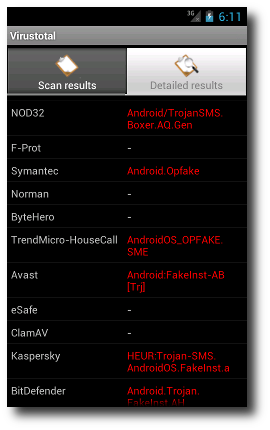 Uploading unknown applications to VirusTotal
The very first VirusTotal for Android check is based on hash lookups against VirusTotal. This means that any application that is unknown to VirusTotal will produce no results and, thus, will have a question mark icon in its results column.
Fortunately, VirusTotal allows you to upload any Android applications unknown to us. This can be easily done by clicking on the unkown application in the results list:

In order to be able to upload files to VirusTotal you must register in VirusTotal Community and provide your credentials to the application. The application will then use your public API key to perform the uploads.
The uploads will be queued for scanning with a low priority, whenever the scan ends the application will produce an Android notification: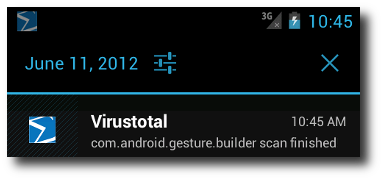 Rescanning applications
Unless you explicitly tell VirusTotal for Android to rescan an application it will only perform hash lookups for it. This means that even if you recheck, you might be always looking at the same old report. If you wish to force a server-side rescan you will have to keep pressed a given application in the main results list, a dialog will appear asking you if you want to rescan: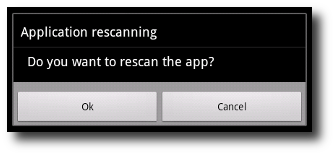 Clicking on your device's menu button while using VirusTotal for Android will display a couple of useful options:

Let us take a closer look at these features:
Filters: this option allows you to filter the main results list searching just for detected, undetected or unknown applications.
Check all: allows you to rescan the applications in your device, you should click on it regularly (once a day for example) if you want to maintain some good habits. Please note that the application itself will not perform rescans unless you instruct it to do so. We must also emphasize that the application will just perform hash lookups when you click on this button, it wont perform a server-side rescan of each application.
API key: allows you to insert or modify your VirusTotal Community credentials. This is something that is needed if you want to upload files to VirusTotal and perform rescans rather than just hash lookups.